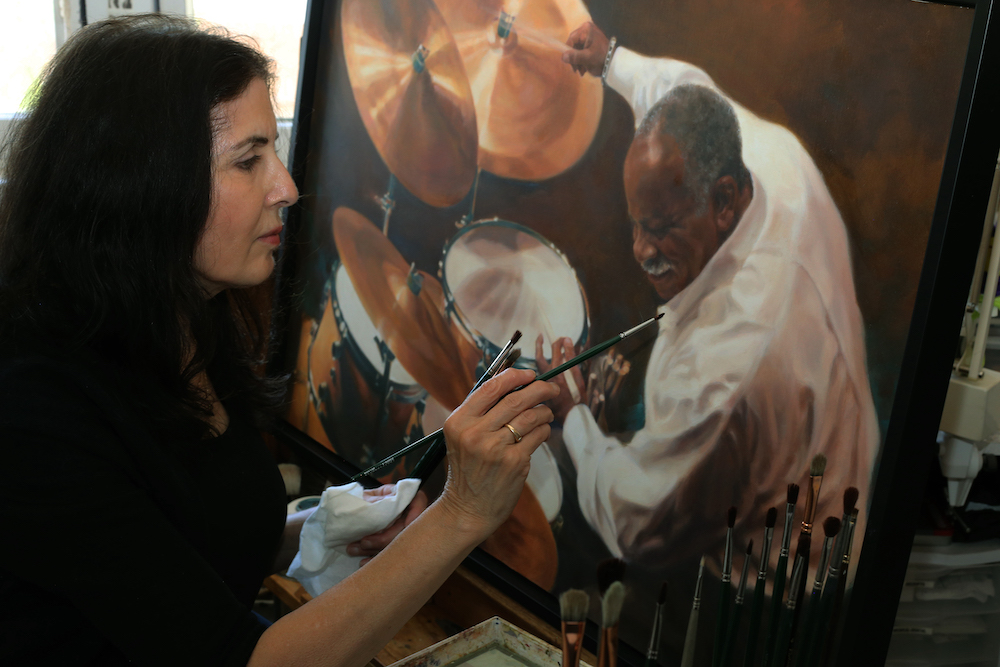 medium: Painting, drawing
For as long as I can remember, I have been drawing and painting people. I began my professional career as a fashion illustrator, and over time my art has evolved towards portraiture and the limitless expression of the human spirit.
My paintings and drawings are a reflection of my own experiences and a tribute to all of the people who have touched my life. My inspiration comes from the photographs I take, either in front of the stage at a concert or at a family gathering. My portraits evolve gradually, taking many layers to complete. The process is a shared experience between myself and my subject, and by the time a portrait is finished, I feel as though I've made a deep and profound connection with my subject. This to me is the essence of portraiture… to reach beyond the photograph and bring the moment to life. When my portrait begins to breathe, I know I have achieved my goal.
Portrait work has become, without a doubt, the most meaningful and rewarding work I've ever done. I continue to maintain a strong connection with the local and national music community long after my portraits are finished, and all of my limited edition prints of musicians are sold with their permission. I hope to always continue to grow as an artist, and make a positive impact in the world around me by virtue of the art I create, and I am proud that my art has raised thousands of dollars for local causes.
Diane Russell was born and raised in Portland, Oregon. She began to paint while attending Portland State University, and studied illustration at Parsons School of Design in New York. After graduating, she returned to Oregon, where she has lived and worked as a professional artist for over 30 years. Diane began her professional career as a fashion illustrator, during which time her art has evolved towards portraiture. Many of her paintings and drawings reflect her passion for music and dance, as well as people from all walks of life. Her portraits capture more than a likeness, they bring to light the inner soul. She works from her own photographs, capturing the moment first with the camera, then later on canvas or paper. Diane's portraits can be found in homes and businesses, on posters and CD covers, and her art has raised thousands of dollars for local causes.
Clients include the Bill Naito Co., the Legendary Rhythm & Blues Cruise, the Blues Foundation, Pendleton Woolen Mills, and Palmer/Pletsch Publications. Diane's work appears on the 2013 and 2007 Legendary Blues Cruise Posters, the 2005 W.C. Handy Blues Awards poster, CD and book covers, and in private and corporate collections across the country. Diane is a member of the Portrait Society of America, Oregon Society of Artists, the Blues Foundation, the Cascade Blues Association, and the Jazz Society of Oregon.