Esther Liberman
Fine handmade beadwork: art, jewelry, and ritual objects.
Artist's Statement:
Doesn't everyone LOVE beads? The seductive smooth feel of them, the vivid dancing colors, the light shining off them in every direction. Humanity has loved them for millennia, and I've been hopelessly enchanted since childhood.
Sometimes the idea comes from the beads themselves, looking to me for a voice. A beautiful bead will beckon, coaxing me to make it into something wonderful. Wait, could I make a kippah entirely out of glass beads? And if light shines through them so beautifully, why not a Yahrzeit candle holder? A Mezuzah? A bookmark? Other times the idea comes from within me, and I turn to the beads to express it. Inspiration comes from everywhere…. a book, a movie, a rug, a random train of thought. When the Muse says Go, I pick up the needle. And when the Muse says Stop, I put it down. But the beads are never far away.
Please reach out to Esther if you are interested in a beautiful beaded creation: estherbeads@comcast.net.
Delicate beaded detail: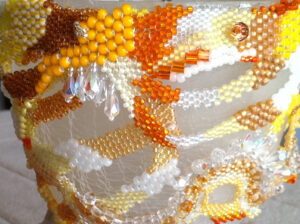 No products were found matching your selection.