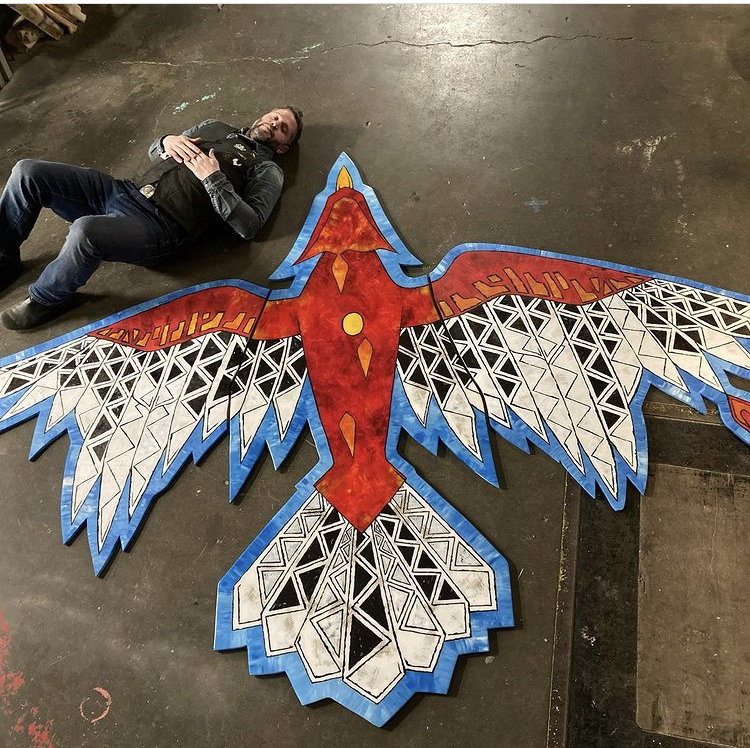 medium: Mixed Media, Wood, Resin, Papercut/Collage
I am a mixed media artist who works with diverse mediums. I enjoy color, form, discernible imagery and social action. My art is a process of bringing what is inside out into the world. Much of my art is Social Practice and involves connecting people who can collaborate on a creative endeavor.
Blue is a Portland based mixed media artist, the community manager of Art Design Xchange (ADX) and a founder of the artist collective JaJa PDX. Blue's work focuses on the relationship between all things, activism, and social justice initiatives. His pieces range from realism, to gestural, and abstract. He strives to have his subjects embody the spirit of the thing rather than be a copy. Blue's primary mediums are; acrylic paint, mixed media and resin on wood, wood-burning, and colored pencils. Blue enjoys working with prompts and is open to commissions. He values knowing where a piece will end up and providing original pieces for interested people. Much of his art is Social Practice work.
He completed a series of portraits for the UFCW 555 campaign for wage equity. He is a cofounder of the gallery at ADX, Gallery X, which has sold over 30k in art since Covid began, with 100% of the sales going to the artists. In July of 2021 he launched the first showing of a new project he co-created called 228.CULT, and a skate deck show. He is also the cofounder and curator of a gallery for currently and formerly incarcerated artists. Much of Blue's art is characterized by directional brush strokes, vibrant colors, and optimism.